Fashioning Masculinities: The Art of Menswear is on at the V&A until November 6th 2022 in the Sainsbury Gallery.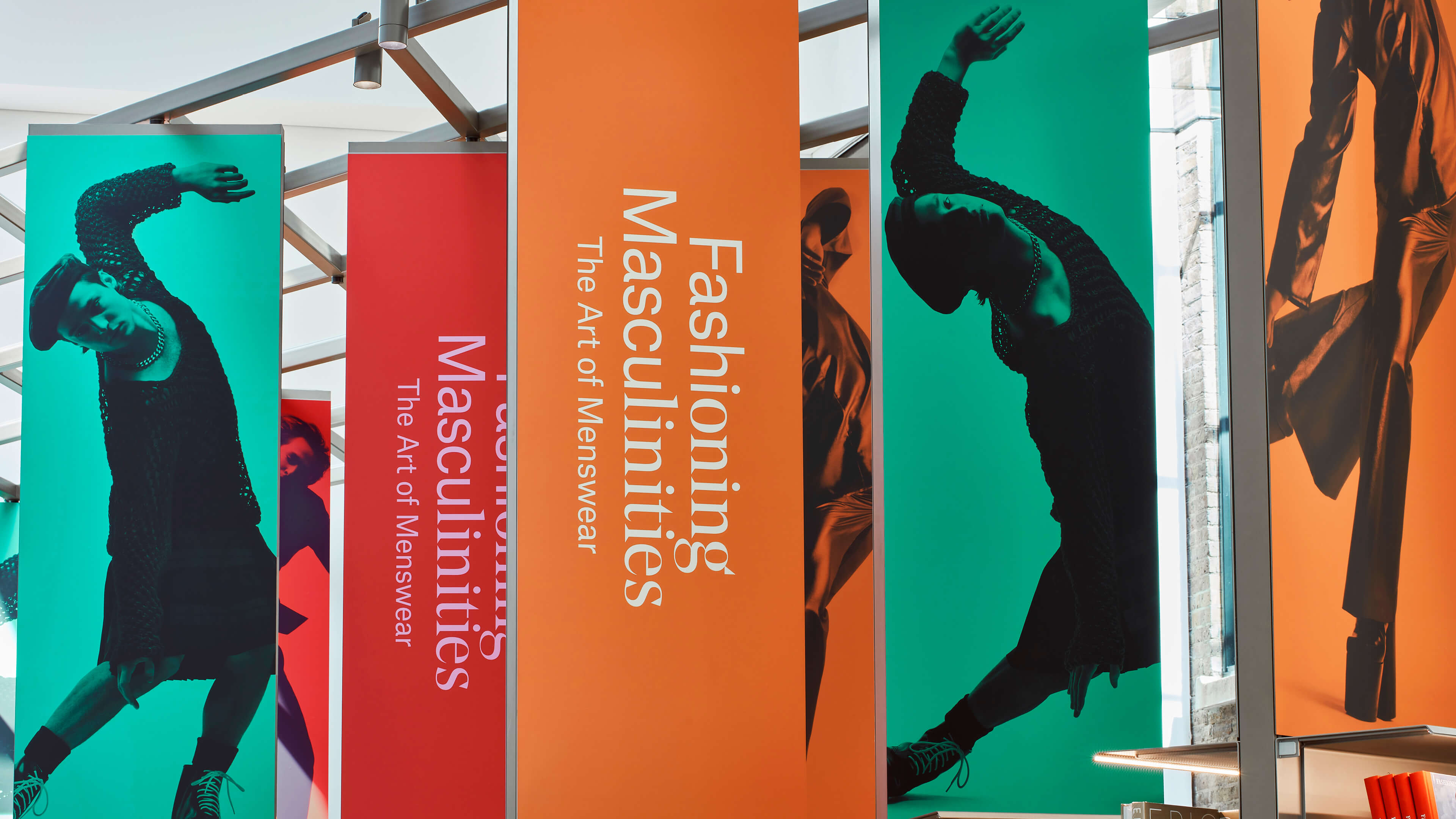 The show aims to explore how masculinity has been performed and constructed over the years. It's also well worth prefacing this blog with the fact that Gucci is the sponsor, something that I couldn't help but be sceptical about from the off; should an exhibition about menswear in general really be sponsored by one specific menswear brand?
That said, I was super excited the moment I read that there was a menswear exhibition, as so frequently fashion gets talked about only in the scope of womenswear - hell I have a fashion degree and the only menswear portion of my degree was cut at the last minute! Curated by Rosalind McKever and Claire Wilcox, this is the first time the V&A has ever put on a menswear focused show. I know so many men who feel uninspired by the often lacklustre trends that are within reach for the average income; the lack of print, colour and style diversity within contemporary menswear is a huge shame. 
It could be said that the timing here is key. Socially and politically there's a lot of discourse about gender identity, which has resulted in some positive progression along with some increasingly regressive political decisions. 
There were certainly mentions of this throughout the show, primarily in the first room. As is the V&A's tendency, the most impactful area was right at the beginning. Initially welcomed by a space which embraced the broad spectrum of what masculinity is and can be; the space gave visibility to men of athletic and less athletic body types, trans men, queer men and fashion that explored both the strength and the sensitivity that make up a man. The colour palette and curation of this area was lovely, really encouraging you to move around and see all that was on show.
Joshua Reynolds portrait of Charles Coote, 1st Earl of Bellamont
From there the message became slightly less obvious, though I'd describe the area as being focused on opulent details that could be found in historical European garments and re-appearing in contemporary pieces. While I found this a little vague, especially for a small space, here I found some of my favourite items in the whole show, featured below.
A carved wooden cravat from c. 1690 alongside the original lace cravat that inspired it, c 1670-80
After this came the most uninspired portion, which simply grouped garments from all time periods by colour. While there were some lovely pieces on show, I really disliked the curation of this section, and I just feel like with some extra energy, a much better thread for this space could have been found.
Part of the colour coded section of the exhibit
There was a range of items relating to militia and armoury, which was to be expected, and the space they had for this felt tricky to utilise so I think a fine job was done. Personally, as this is the side of things we actually do see on a regular basis, it was hard to conjure much excitement, though there were some beautiful portraits, both historical and contemporary. Following this, we did see the focus shift to tailoring, the rise of the black suit and tuxedo and some styles linking in with pop culture movements from the end of the 20th century.
Again, I couldn't help but feel let down by the curation here, particularly in the tuxedo department. It's not easy to make a row of garments in the same colour feel exciting, but I've seen it done in the past. There's a case to be made that this was intentional; that the stark ousting of codpieces, dandies and playful colour palettes had left behind a husked out lineup of menswear. Here, there were iconic pieces lined up that I was so ready to just walk past because the display was so dull and the exhibition had really started to lose my attention. I'm talking Alexander McQueen, Thierry Mugler and Stella McCartney here, and I was still struggling.
It was a welcome surprise that the final section was all about genderplay, featuring 3 well known looks worn by Billy Porter, Harry Styles and Bimini Bon Boulash. These silhouetted against floor to ceiling LED screens of a contemporary dance performance really re-energised me - I only wish that it had come earlier.
There's a lot to unpack when it comes to this exhibition and it's tricky to know where to start. I suppose as good a place as any is the Gucci sponsorship. Aside from this essentially meaning that a Gucci-clad Harry Styles was sidled into many spots that felt carved out for David Bowie's contribution instead (no shade here, I'm very much team Harry), there are wider repercussions. The Gucci fashion house was conceived by Guccio Gucci in the early 1920s, inspired by the aristocracy he saw travelling in luxury while working at the Savoy hotel 20 years prior. This interest in wealth has carried right through into this exhibition, 100 long years later, infiltrating every inch of it.
While the European upper classes have traditionally controlled the fashion sphere, long ago even having authority over who was able to wear certain colours, menswear in particular really has a rich history of working class fashion. This is primarily due to men outweighing the number of women working for a longer time and garments being made more specifically for this purpose. It's unfortunate then, that these men were completely omitted from Fashioning Masculinities.
Another notable absence is the notion of anything un-Eurocentric. I fully appreciate that the curators only had a certain amount of space, however, with a fair portion of the 200 piece collection feeling superfluous, I just can't overlook the huge wasted opportunity this was. There is such a wealth of colour, texture, and fabrication to be found around the globe, and to not even nod to a handful of these is insulting not only to these cultures, but to the viewers. 
My hope for now is that this show might inspire some other museums to tackle the subject matter, likely with a more knowing touch. My own ideal venues would be Musée des Arts Décoratifs, The Hayward Gallery or Somerset House, all of which I've seen handle a plethora of subject matter with expert skill.
So I've put together the current shows I'd really like to see at each of these phenomenal venues...
Musée des Arts Décoratifs has recently opened their Elsa Schiapparelli show  - catch this until January 22nd 2023
The Hayward has an extremely well reviewed Afrofuturism exhibition - showing until September 18th 2022
And Somerset House's Eternally Yours is a love letter to healing through repair - free to attend until September 25th 2022
Have you been to Fashioning Masculinities? What did you think? And please let me know if you visit one of these three recommendations as I'd love to hear your opinions!